This article is part of a series on the forms to declare in France. Please do not forget to also use our guide to declaring your capital gains in Forms 2042 C and 2086.
In France, you need to be aware of three separate forms. Form 3916-BIS to declare your cryptocurrency accounts and form 2042 C and 2086 to report your capital gains. In this article, we will cover Form 3916-BIS.
At the end of the article, we've provided a list of exchanges and their information to be filled into Form 3916-BIS.

---
Which Crypto Accounts Must Be Reported

When preparing your tax declaration, understanding which crypto accounts need to be reported is crucial. Below are the key guidelines to help you determine which accounts fall under the reporting requirement:
Reporting Time Frame
All custodial accounts that you've opened, closed, or used during the year you are declaring for must be reported.

If you are declaring for the 2023 tax year, but have opened an account in January 2024, then that newly opened account does not need to be declared.
Custodial Accounts
The obligation to declare applies to custodial accounts.

Custodial Accounts are characterized by the fact that the platform has control over your funds.

If you have a non-custodial account, where you hold the private key (e.g., Ledger), such accounts are not subject to the reporting obligation.

If in doubt whether the service you use is a custodial account, you can look at the terms of service of the platform/wallet you use or reach out to their customer support.
---
How to Declare Form 3916-BIS
Initial Steps
Access Online Declaration: Start by logging into the online tax declaration portal.
First, click on Accéder à la déclaration en ligne, go through and confirm or update any details that are not related to cryptocurrencies.

Declaring Crypto Accounts
Once you reach Étape 3 tick the box labeled 8UU for the option "Comptes ouverts, détenus, utilisés ou clos à l'étranger" (Accounts opened, held, used, or closed abroad)

Click "Suivant" to be taken directly to the relevant annexed form for your crypto accounts.
For Previously Declared Accounts
Review Pre-recorded Information: If you've declared crypto accounts in the past year using this form, they should be pre-recorded in the system.

Confirm Continuing Accounts: Use the "report" function to confirm that these accounts are still active or in use this year. You should see a "report activé" notification.

Account Quantification: Enter how many accounts you are declaring for.
For New or Unreported Accounts
Provide Personal Details: If this is your first time, or if you have new accounts to declare, start by filling in your personal and identity information in box 1.

Specify Account Type: In box "2: Nature du compte," make sure to check the "compte d'actifs numériques" option.

Detail Your Crypto Accounts: Finally, move to box 3 "Informations relatives au compte d'actifs numériques ouvert, détenu, utilisé ou clos à l'étranger" (Information relating to the digital asset account opened, held, used or closed abroad).

From here, you need to enter a number of bits of information per exchange used.
Numéro du compte (Account Number)
Description: This is your identification number on the exchange platform.

How to Find It: Usually found on your profile dashboard. If no unique identifier is assigned, use the email address you used for account creation.
Date d'ouverture (Opening Date)
Description: The date when you opened your account on the exchange.

How to Find It: Refer to the confirmation email received upon opening your account.
Date de fermeture (Closing Date)
Description: The date you closed your account, if it closed during the tax year.

How to Find It: Look for the email that confirmed the closure of your account.
Désignation de l'organisme gestionnaire du compte (Designation of the Account Managing Organization)
Description: The name of the company that owns the exchange platform.

How to Select: Choose from a given list or select "Autre organisme" (Other organization) and enter the name if your platform is not listed.
Adresse de l'organisme gestionnaire du compte (Address of the Organization)
Description: The physical address of the organization or exchange.

How to Find It: Use CTRL + F on this page and enter the platform's name on this page. We have a list of exchanges and their (information relevant for 3916-BIS)[https://divly.com/en/guides/guide-declaring-3916-bis-crypto-france#list-of-exchanges] on this page.
URL du site Internet (Website URL)

For a wide variety of exchanges, we've provided this information in the section List of Exchanges with Address Information for Form 3916-BIS of this guide. Use Ctrl-F to find your exchange quickly. You can then Copy-Paste the information directly into the tax declaration portal.

Select which option applies to you
Titulaire en propre du compte d'actifs numériques à l'étranger. (Direct holder of the foreign digital asset account.)

Bénéficiaire d'une procuration sur le compte d'actifs numériques à l'étranger. ("Beneficiary of a power of attorney on the foreign digital asset account.)


Navigate to the section labeled "5. Usage du compte ouvert, détenu, utilisé ou clos à l'étranger": Here, you should select the checkbox that aligns with how you have used the account.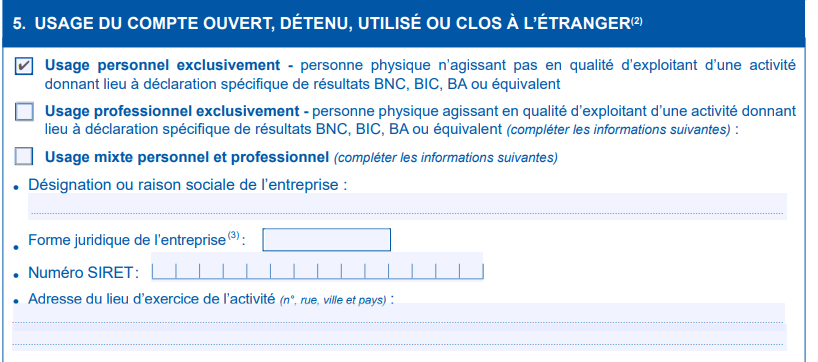 You've now completed your declaration for 3916-BIS. You've now successfully declared your accounts. You may now want to report forms 2042 C and 2086 for your capital gain transactions.
---
FAQ
Are there fines for not reporting form 3916-BIS?
Yes, there are penalties for failing to declare a foreign crypto account. According to Article 1736 of the General Tax Code, not declaring such an account can result in a fine. The fine is set at 750 euros for each account not reported. Additionally, if the total value in the account exceeds 50,000 euros, the fine increases to 1,500 euros per account.
What if my foreign exchange is registered in France, do I have to declare them in 3916-BIS?
If a foreign crypto exchange platform is registered in France as a Digital Asset Service Provider (PSAN), even though its head office might be located abroad, it's not necessary to declare its foreign address to the French tax authorities as long as the funds are managed in France. If you are in doubt, check the drop-down menu for your platform. If they are listed there, then you must declare them.
What if I do not know the exact address of my exchange platform?
Knowing the country is sufficient if you are not able to determine the exact address of the exchange used.

---
List of Exchanges with Address Information for Form 3916-BIS
Bibox
BIBOX TECHNOLOGY OÜ
Pille Tn 7/5, Tallinn, 10135
Estonie
Binance
Binance Europe Services Limited
14 East, Level 5B,
Triq Tas-Sliema Gzira, GZR 1639
Malte
Bitcoin.com
Saint Bitts LLC
Nelson Springs Commercial Complex, Colquhoun Estate
Company Number L17015
Saint-Christophe-et-Nieves
Bitfinex
iFinex Inc
Third Floor
Road Town, VG1110
Iles Vierges britanniques
bitFlyer
bitFlyer EUROPE SA
121 Rue de Hollerich
L-1741, Luxembourg
Bitget
BG Limited
Seychelles
(Exact address of Bitget not found. check 'Autres' in the 'Pays' tab.)
Bitmex
HDR Global Trading Limited
Global Gateway 8
Rue de la Perle
Providence Mahé
Seychelles
Bitpanda
Bitpanda GmbH
Stella-Klein-Low Weg 17
1020 Vienne
Autriche
Bitrue
Bitrue
Realb Singapore Pte. Ltd.
10 Anson Road #10-21
International Plaza, 079903
Singapour
http://www.bitrue.com
Bitstamp
Bitstamp Ltd
5 New Street Square
London EC4A 3TW
Royaume-Uni
Bittrex
Bittrex International GmbH
Dr. Grass-Strasse 12
9490 Vaduz
Liechtenstein
Blockchain
Blockchain (LT) UAB
Upes str. 23
Vilnius
Lithuanie
Blockfi
BlockFi Trading LLC
201 Montgomery St.
Suite 263
Jersey City, NJ 07302
États-Unis
Bybit
Bybit Fintech Limited
C/O Campbells
Floor 2 Romasco Place
Road Town, Tortola
Îles Vierges britanniques
BYDFi
BYDFi Fintech LTD
306,Victoria House, Victoria
Mahe, 8684
Seychelles
Celsius
Celsius EU UAB
Gedimino pr. 20 V
ilnius 01103
Lithuanie
CEX.IO
CEX IO LTD
33 St. James's Square
London SW1Y 4JS
Royaume-Uni
Coinbase / Coinbase Pro
Coinbase Europe Limited
70 Sir John Rogerson's Quay
Dublin D02 R296
Irlande
Crypto.com
Foris DAX MT Limited
Level 7, Spinola Park, Triq Mikiel Ang Borg
St. Julian's SPK 1000,
Malte
CoinEx
CoinEx Technology Limited
Onfem Towe
29 Wyndham St, Central
Hong Kong
Coinmotion
Coinmotion Oy
Kauppakatu 39
40100 Jyväskylä
Finlande
eToro
eToro (Europe) Ltd
4 Profiti Ilia Street
Kanika International Business Center (KIBC) 7th Floor
Germasogeia 4046
Limassol Chypre
FTX
FTX Trading LTD
Lower Factory Road
St. John's
Antigua
Antigua-et-Barbuda
Gate.io
Gate.io
P.O. Box 31119 Grand Pavilion
Hibiscus Way
802 West Bay Road
Grand Cayman
KY1-1205
Îles Caïmans
Gatehub
Gatehub
90 Hatton Gardens
London
England CR4 4, GB
Royaume-Uni
Gemini
Gemini Europe Services Ltd
1 Poultry Office 02-102
Londres EC2R 8EJ
Royaume-Uni
HitBTC
HiTech Digital Business Ltd
Av Vitacura 2969
Las Condes
Region Metropolitana
Chilie
Kraken
Payward International Markets Limited
Trinity Chambers, P.O. Box 4301
Road Town, Tortola, VG1110
Îles Vierges britanniques
https://www.kraken.com
Kucoin
Vistra Corporate Services Centre
Suite 23, 1er étage, Eden Plaza, Eden Island, Mahé
République des Seychelles
LiteBit
2525 Ventures BV
Weena 740, 15de etage,
3014 DA Rotterdam,
Pays-Bas
Luno
Luno Pte Ltd
5 Shenton Way
10-01 UIC Building, 068808 SG
Singapour
MEXC
MEXC Global Ltd
Sertus Chambers, Second Floor, The Quadrant,
Manglier Street, Victoria, Mahé
Seychelles
Nexo
Nexo AG
15 Grafenaustrasse
6300 Zug
Suisse
Nicehash
Maribor Maribor 2000 SI
Slovenie https://www.nicehash.com/
Northcrypto
Kristiinankatu 9
20100 Turku
Finlande
https://www.northcrypto.com
OKX (OKEx)
Aux Cayes FinTech Co Ltd
Suite 202, 2nd Floor
Eden Plaza, Eden Island
Victoria, Mahe
Seychelles
Phemex
Phemex Financial Pte Ltd
1 Irving Place
08-11, The Commerze Irving, 369546
Singapour
Poloniex
Polo Digital Assets Ltd
F20, 1st Floor, Eden Plaza
Eden Island
Seychelles
Probit
PROBIT GLOBAL SERVICES Ltd
Suite 9, Ansuya Estate, Revolution Avenue
Victoria, Mahe
Seychelles
Revolut
Revolut Payments UAB
Konstitucijos ave. 21B
08130 Vilnius
Lituanie
Safello
Safello AB
Mäster Samuelsgatan 36
111 57 Stockholm
Suède
https://www.safello.com
Swissborg
SBorg SA
8 rue du Grand-Chêne
1003 Lausanne
Suisse
Uphold
Uphold Lithuania UAB
Upes g. 23-1
Vilnius
Lituanie
Wirex
UAB Wirex
Perkunkiemio g. 13 – 91
Vilnius
Lituanie
Zonda
BB Trade Estonia OÜ
Harju maakond, Tallinn
Lasnamae linnaosa
Tähesaju tee 9, 1391
Estonie