Step 3: Check your transactions
View Your Transactions
Once you have imported your crypto transactions, they will all be visible on the Transactions page.
In the Transactions page on Divly you will be able to drill down into each individual transaction. All the calculations in Divly are done bottom-up based on your individual transactions.
You can use this page to view and filter transactions, view specific metrics for each transactions, add transactions, edit transactions, delete transactions, label transactions, match transfers, resolve warnings, and change the value of a transaction in your local currency.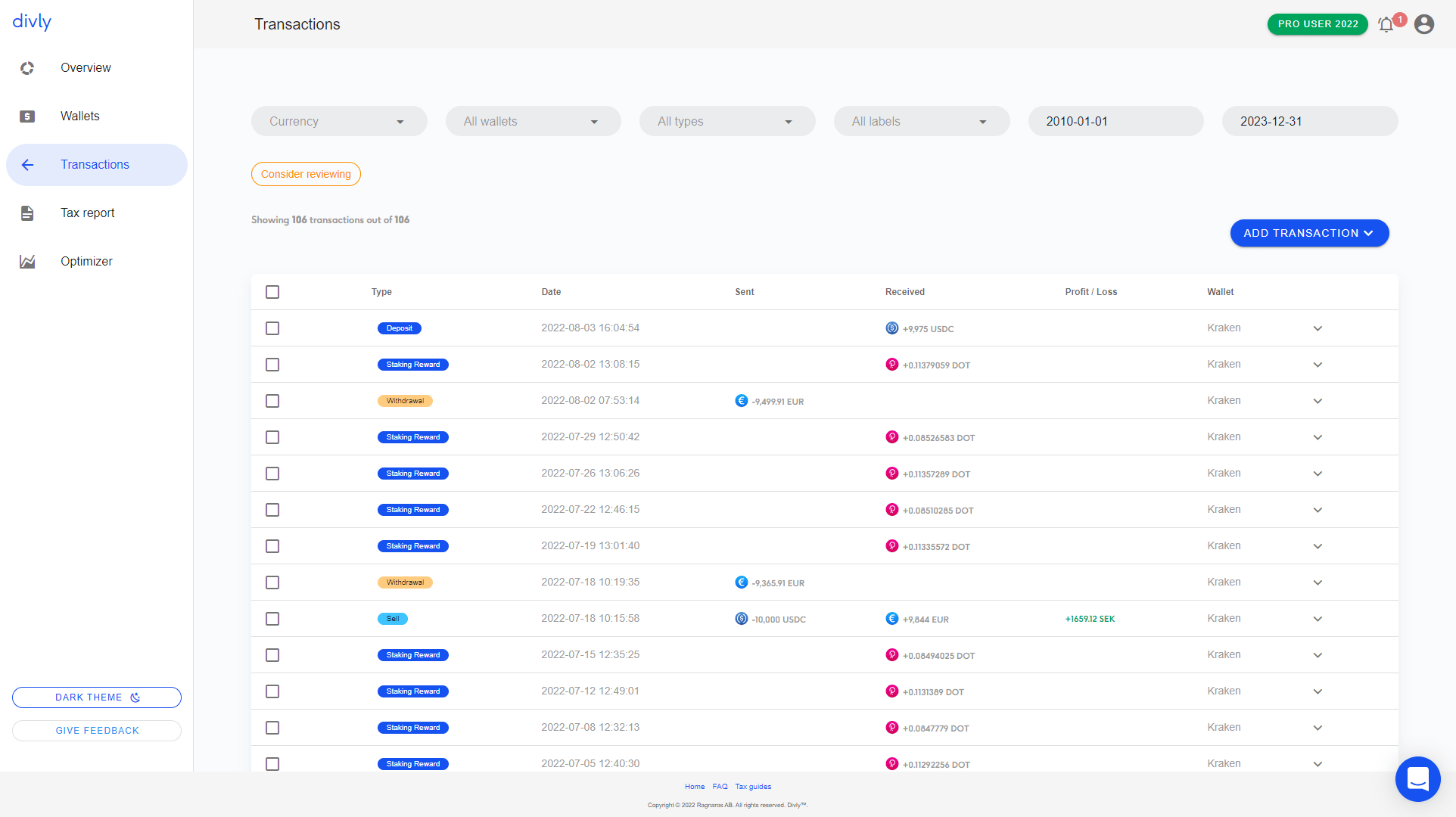 What to look for
There are certain changes you should consider making on the Transactions page once you have checked that they have all been imported.
Check that all of your transactions have been imported
Missing transactions will affect your taxes. Make sure everything is imported from day 1!
Label transactions
Different types of crypto transactions can have specific tax effects. This includes transactions like giving gifts, loosing crypto, mining, forks, airdrops etc. In some cases Divly can automatically label transactions for you, but in many scenarios this is impossible for Divly to do with the data provided. It falls on you as the user to label these transactions correctly.
Warnings
In some cases we cant find a price for a specific crypto (Missing price information) or we cant find at what price you purchase a crypto for (Missing purchase history). In these cases Divly will create a warning for each respective transaction that you can find by clicking the filter Consider Reviewing. In most cases its quite easy to resolve and you can read more about it in the Transactions FAQ.
Check that Transfers are Transfers
Divly automatically attempts to match transactions where you send crypto from one of your wallets to another. Assuming you have uploaded all transactions, Divly's algorithm usually works flawlessly by matching a withdrawal from one wallet to a deposit in another wallet.
However, there are cases where a withdrawal and deposit is not matched. As such it can be worth manually checking deposits and withdrawals to make sure none of them should in fact be a transfer. You don't want to pay extra taxes! You can manually match transfers when needed.
What's next?
Once all your transactions look to be in order, you can proceed to the final step. If you have questions regarding this step, feel free to read our extensive Transactions FAQ. If you still cant find the answer please contact us through our chat.