How do I manually add a transaction?
Quick Answer
You can always add singular transactions in Divly directly in the interface. This is often the most practical way to import a handful of transactions, especially if your wallet is not integrated. You can easily add new transactions from the Transactions page in Divly by clicking the button Add Transaction.

Detailed Answer
You can add Deposits, Withdrawals, Trades, and Transfers manually in Divly.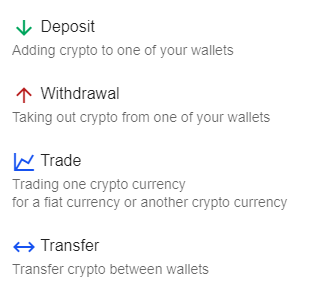 Below is a summary of the fields available when adding a manual transaction:
Deposit
Withdrawal
Trade
Transfer
Deposited Amount
Withdrawal Amount
Bought Amount
Transferred Amount
Currency
Currency
Bought Currency
Transferred Currency
Wallet
Wallet
Sold Amount
Fee Amount (Optional)
Date
Date
Sold Currency
From Wallet
Transaction Time
Transaction Time
Wallet
To Wallet
Label (Optional)
Label (Optional)
Date
Date
Transaction Time
Transaction Time
Fee Amount (Optional)
Fee Currency (Optional)
Make sure you have a wallet to add the manual transactions to. This can either be an existing wallet with imported data, or an Empty Wallet you added without any prior transactions. New wallets are added from the Wallet page in Divly.