Looking for an Alternative to Kryptosekken?

Divly offers a solution deeply specialized for the countries we support. It is simple and free to get started with Divly. Our dedicated support team is available 7 days a week if you have questions.
Making the Switch to Divly
Method 1: Upload your transactions from Kryptosekken
Step by step guide:
Sign in to Kryptosekken

Navigate to the Eksport av Transaksjoner page.

Click Last ned CSV fil in the menu to the left.

Sign in to Divly and navigate to the Wallets & Exchanges page.

Search for Kryptosekken in the search bar and click on the wallet.

Drag and drop the CSV file to where it says Upload CSV. Divly will import the transactions.
Method 2: Upload transactions from all your wallets &exchanges
You can simply import all your transactions from your wallets & exchanges. Divly provides support for 50+ different wallets & exchanges. If we do not support your wallet or exchange, we also provide a custom upload feature you can use.
Customer support 7 days a week
Both Kryptosekkena and Divly provide numerous support options. But only Divly provides a chat on their platform at the time of writing. This allows for the most seamless and integrated support possibilities. Divly's support is open 7 days a week to make sure we can help people whenever they need it.
Portfolio Tracking
Both Kryptosekken and Divly provide a portfolio overview showing your total balance. Divly provides additional tools to track your portfolio better. Divly's overview page shows how your portfolios' value and cost basis have changed over time and what percentage of your portfolio is held in each cryptocurrency.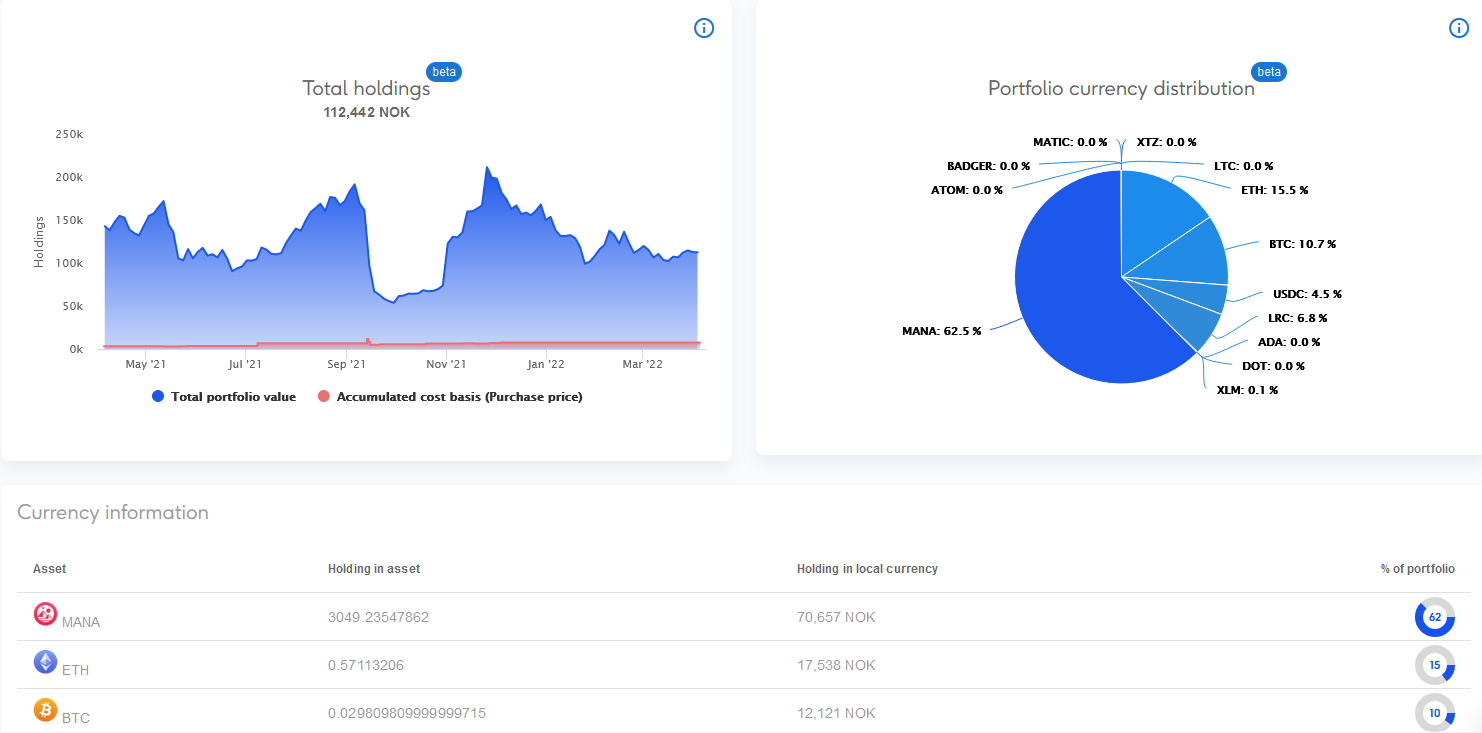 Declare for multiple years without extra cost
At the time of writing, Kryptosekken users have to purchase a tax plan for each year they want to declare their taxes. Costs are dependent on your transactions per year. Divly allows you to pay once and receive your crypto tax report for the current year and all previous years at once.
NFTs
Skatteetaten recently updated its regulations for NFTs. For NFT trading NFTs can be seen as cryptocurrencies for tax purposes. Minting NFTS is not seen as income. However, the cryptocurrency used to mint an NFT will undergo a realization and be subject to taxation. Divly currently supports NFT transactions on its platform via its custom upload and our ETH and BNB wallet imports (Starting April 11th, 2022). At the time of writing, Kryptosekken only supports NFTS through manual entry or their custom upload.
Start Now
An easy way to save time is by using automation services like Divly. Divly does all the calculations for you so you can spend more time on other things in life.