If you are looking to make some extra money in crypto, then affiliate marketing is one of the quickest ways to get started. Instead of building your own product, you can help sell other companies products and get paid for it. Imagine this: you're not just trading or holding cryptocurrencies; you're also earning a commission for introducing new users to platforms that you already know and love. It's a win-win.
Before you dive headfirst into affiliate marketing, remember that not all affiliate programs are created equal. Choosing the right one can be the difference between a nice little bonus and a significant income stream. So buckle up, as we're about to delve into the best crypto affiliate programs of 2024 to set you on a path of maximum earnings.
Hardware Wallet Affiliate Programs
Wallets are an essential tool for anyone involved in crypto, offering both storage and security. They're not just useful; they're downright indispensable. That means anyone you refer is likely not just to sign up but to keep using the service, translating to high retention rates.
On the commission front, these programs can offer flat rates for each sale or a percentage of the lifetime value of a customer. The numbers can stack up nicely if you refer a good number of people who take their crypto security seriously.
Ledger
As one of the most trusted names in the hardware wallet space, Ledger's affiliate program offers a 10% commission on each sale made through your affiliate link. Their products are top-notch, and their reputation for security is sterling, making it an easy sell for anyone concerned about safeguarding their crypto assets.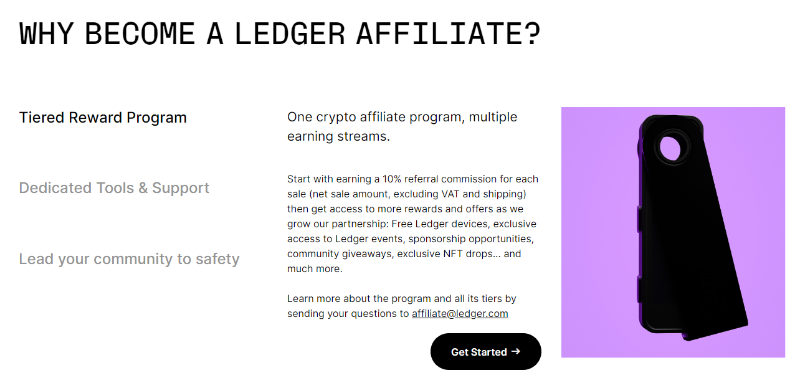 Trezor
Another titan in the hardware wallet scene, Trezor's affiliate program offers 12-15% commission, based on the volume of sales you generate. Known for its user-friendly interface and rigorous security features, Trezor has a strong following among both crypto newcomers and veterans alike.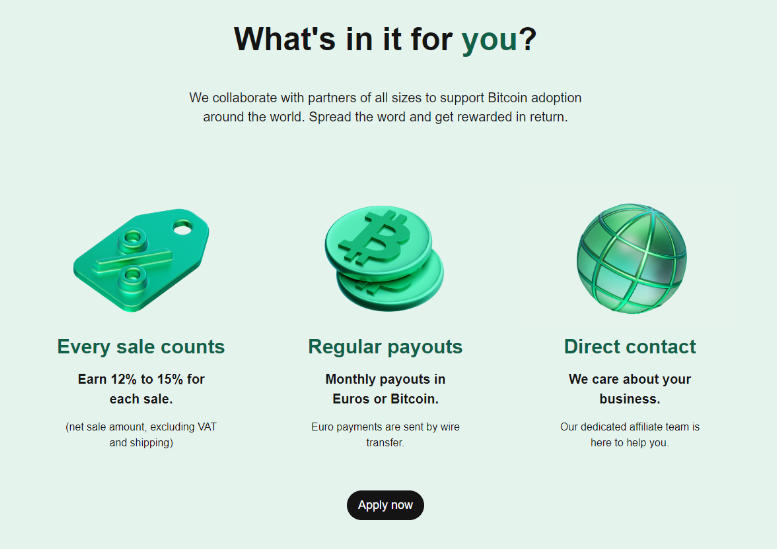 Crypto Tax Affiliate Programs
As crypto goes mainstream, so does the taxman's interest in it. Anyone dabbling in crypto will eventually need a way to calculate and report their gains and losses accurately, and that's where tax software swoops in. It's a product with a genuine need, and there's no better product to promote than one that solves a real problem.
Crypto taxes platforms are a growing niche that are a great complement to the more traditional wallet and exchange affiliate programs.
Divly
Divly has made waves for its straightforward approach to crypto taxes and highly localized offerings. They boast high conversion rates due to how well they support local taxpayers in over 20 countries, taking much of the intimidation factor out of the equation.
Affiliates can earn up to a 40% revenue share, which is quite a handsome cut. The Divly affiliate program also provides a recurring revenue stream of up to 20% for all follow-up purchases, allowing you to earn lifetime revenue.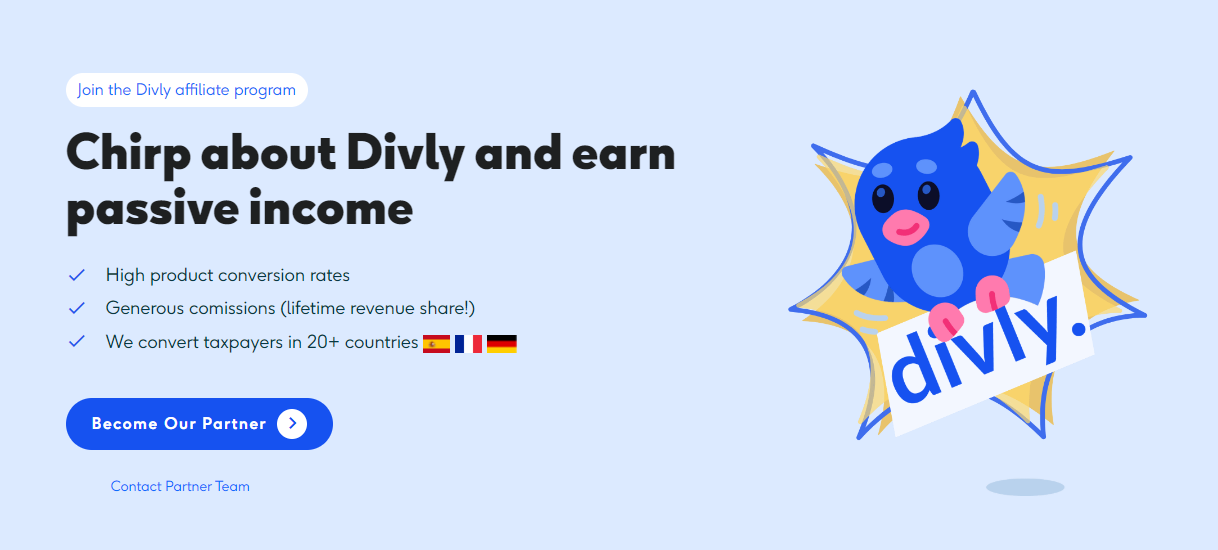 Cointracking
CoinTracking is a favorite for its comprehensive features. It was one the earliest tax products in crypto and has grown a following since 2012. Their affiliate program offers a 20% commission, and you also get a 10% discount code to offer your audience.

Crypto Exchange Affiliate Programs
Why should you consider partnering with an exchange? Well, for starters, these platforms often have a high user base, meaning there's a lot of potential for your affiliate links to convert. You're not shouting into the void here; you're tapping into an already interested and engaged audience.
Secondly, the commission structures with exchanges can be particularly rewarding. Some offer a one-time commission per referral, while others provide a percentage of the trading fees generated by your referred users. Some even offer a tiered system, where the more people you refer, the higher your commission rate climbs.
Which exchange affiliate program you use highly depends on the country demographic of your audience. You may want to consider local exchanges or specific types of exchanges that resonate with your values and beliefs. Here are some international exchanges that have affiliate programs, but we recommend doing your own research since there are so many to choose from.
KuCoin
The KuCoin affiliate program is a gem in the crypto universe that you'd do well not to overlook. Their affiliate program is designed for serious players, offering competitive commission rates that can go up to 60% on trading fees.

Coinbase
Known for its user-friendly interface, Coinbase is an excellent platform for beginners. The Coinbase affiliate program offers 50% of your referrals' trading fees for the first three months.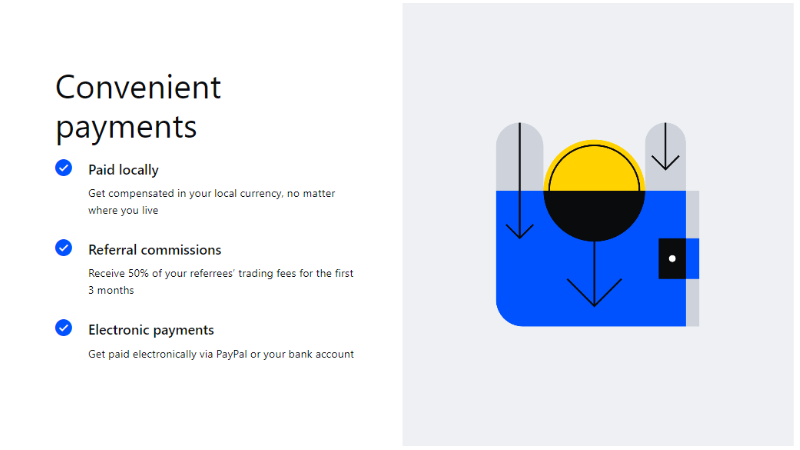 Binance
A behemoth in the crypto space,Binance offers one of the most lucrative affiliate programs. You can earn up to 50% commission on trading fees from your referrals, and if you hold their native BNB token, that percentage can go even higher.

Pro Tips for Maximizing Earnings
You've got the know-how, you've picked your ideal affiliate program, and you're raring to go. But before you start counting your future earnings, let's talk about strategy. Being an affiliate in the crypto space isn't just about slapping a link here and there; it's about being smart, strategic, and yes, a bit savvy too. Let's get into it.
Leveraging Social Media, Blogs, and Personal Networks
First things first: your channels of communication. Social media isn't just for memes and political rants; it's a powerful tool to get your message across to a wide and varied audience. Whether you're a Twitter titan or an Instagram influencer, use your platform to educate your followers about the value and benefits of the crypto service you're endorsing. The key here is to be genuine; your followers can smell a hard sell from a mile away.
Have a blog? Excellent! Detailed posts that explain the intricacies of the crypto platform you're promoting can not only bring value to your readers but also rank well on search engines. SEO-optimized articles with your affiliate links can be a consistent source of referrals for years to come.
Don't overlook your personal network either. You'd be surprised how many of your friends, family, or colleagues are crypto-curious but don't know where to start. A personalized recommendation from someone they trust—you—could be the nudge they need to dive into the world of digital assets.
Monitoring and Optimizing Performance
Most affiliate programs offer dashboards that allow you to track clicks, conversions, and, of course, your earnings. Don't just set and forget; use these tools to monitor your performance over time. If you notice that one channel is driving more conversions than another, double down on it. If a particular message or type of content isn't resonating, tweak it or try a different approach.
Furthermore, keep an eye on the broader trends in the crypto world. If a particular asset is making headlines or a major event is coming up (like Bitcoin's halving, for example), leverage these moments to create timely and relevant content. Being topical not only shows that you're in tune with the market but also capitalizes on increased public interest.
The crypto space is dynamic, and your affiliate strategy should be too. Continuously optimizing your approach can help you stay ahead of the curve and maximize your affiliate earnings.
Wrapping It Up
We've navigated through the compelling labyrinth of crypto affiliate programs, dissecting everything from bustling trading platforms to essential tax software and fortress-like digital wallets. However, don't just chase after programs offering hefty commissions. Dig deeper. Assess each program's reputation, its value to your audience, and how well it gels with your own objectives.
Your aim should be a symbiotic relationship, one that brings genuine value to both you and your audience.
The crypto space isn't static; it's a constantly shifting ground full of innovation and transformation. Affiliate marketing is no different, evolving to offer increasingly sophisticated and rewarding avenues. If you've been on the fence about diving into crypto affiliate programs, consider this your clarion call.